Copthorne Village Support Group (CVSG)
COVID 19 ARE YOU COPING?
DO YOU NEED HELP?
If you are in'SELF ISOLATION' feel vulnerable and need help please call your
COPTHORNE VILLAGE SUPPORT GROUP on
01342 713407
We are aware that being in isolation for a prolonged period can be a lonely time for people. The CVSG has volunteers (all from the village) ready to help those who need it. If you would like a friendly phone call then please get it touch with us on 01342 713407 and a phone buddy will contact you to listen and chat. If you know of someone in the village who would benefit from this service and is not on Facebook, please give them this number.
This initiative supplements the NHS Responder Scheme. If you require further information about CVSG email councillor Trevor Hodson on:
Trevor.hodsdon@worth pc.gov.uk
To download this information click poster below: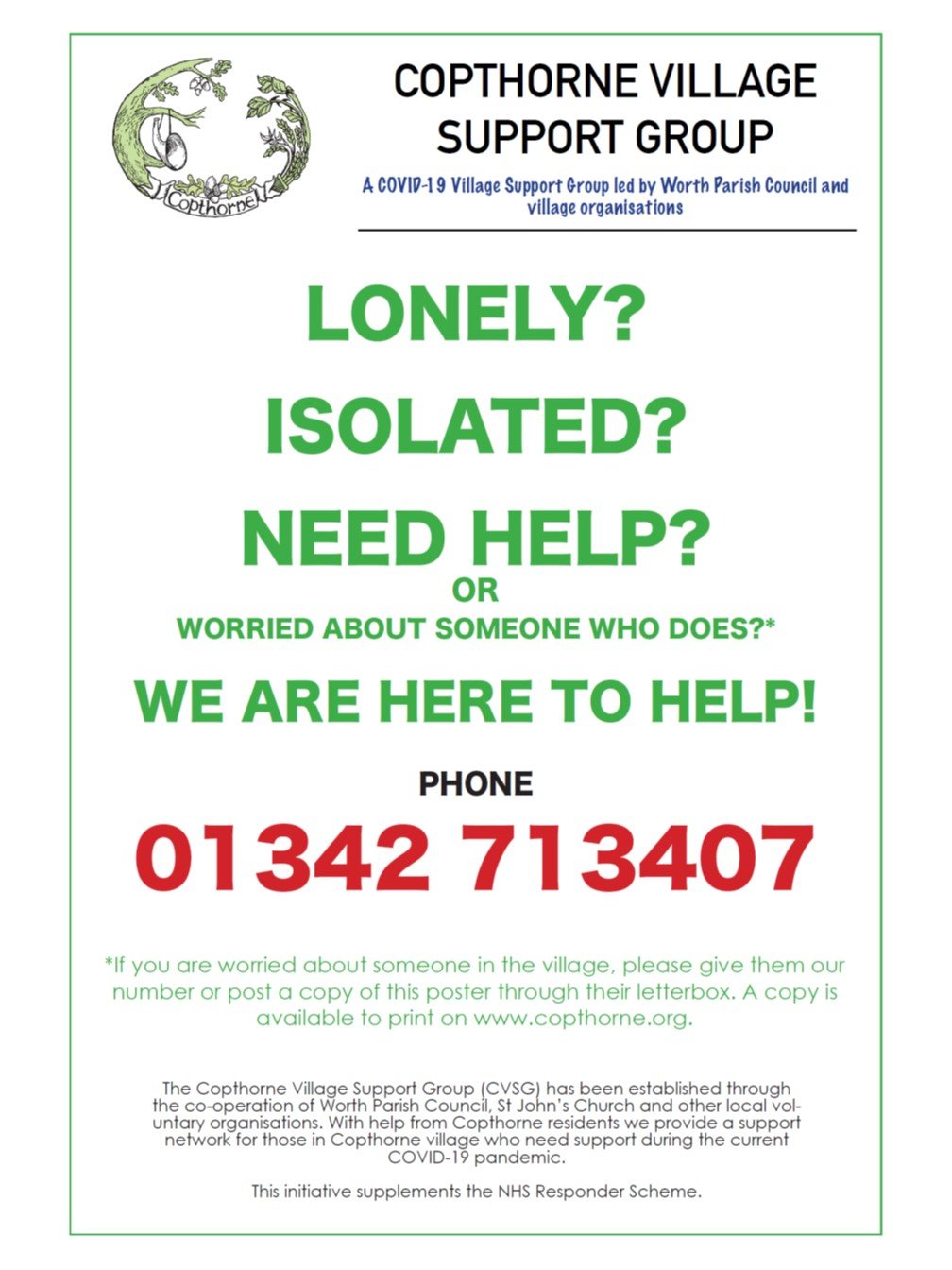 Click below to download for a list of local contacts:
A COVID-19 Village Support Group led by Worth Parish Council and village organisations
Copthorne Village Support Group (CVSG) is a support initiative between Worth Parish Council and village organisations that supporting the Copthorne Community through the critical period of the spread of COVID-19. It provides a focal point for those in need, to find advice, support or assistance. It also looks at identifying resources and opening up communication channels, forming and directing a volunteer structure for those in need. CSVG aims to be flexible to fast changing circumstances as well as needs by having a strategic plan for local facilities, communication and volunteers that will assist statutory bodies and emergency services should the need arise.
CAN YOU HELP? - Volunteers Needed!
We need adult volunteers to help those most vulnerable:
• Delivering leaflets.
• Collecting and delivering shopping and medicines.
• Being a 'Phone Buddy' to an isolated person.
• Volunteering can be with a vehicle, on foot or from home.
If you would like to volunteer, please contact: CVSGvolunteers@gmail.com
PLEASE SUPPLY: Name, address, e-mail, telephone number (mobile and/or landline), an idea of times of availability. Please confirm that you are not 'at risk' and are not excluded under any DBS check. You do not need a DBS check to volunteer. Other useful information such as: can you drive, how you think you may best be able to help and any limitations that might apply. You will receive an e-mail acknowledgement and may be contacted as needs arise.
Note that CVSG will not seek to replace any existing National Government guidance and will follow and promote all national guidance as it emerges. The group will, at all times, follow guidelines to ensure the safety of its volunteers.
Click below for for further useful information for volunteers:
To download the volunteer poster click below: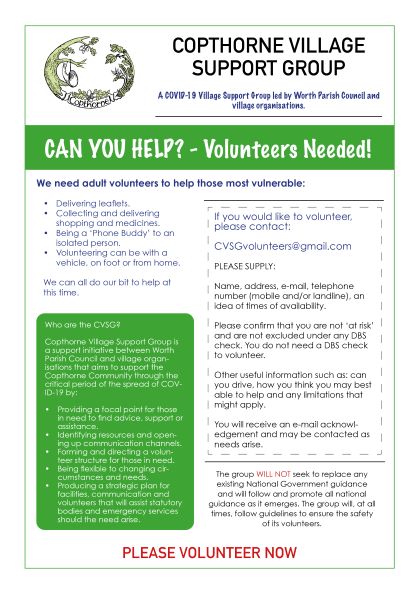 To download the volunteer guidelines click below: